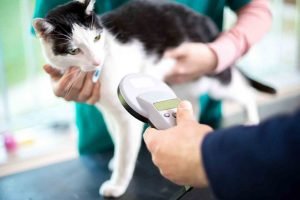 Do you have an escapee pet? You know the type – always hanging around the front door, waiting for the opportunity to push past our legs and run for freedom?
Unfortunately, the statistics regarding pet loss are staggering. One in three pets will be lost in their lifetime. Over 10 million are lost in the U.S. each year. Without any identification, 90% of pets will never find their way home.
We don't want any owners to experience this heartbreaking situation, which is why the team at West Park Animal Hospital wants to discuss the importance of microchipping your pet.
What is a Microchip?
A microchip is a device (roughly the size of a grain of rice) that's placed under your pet's skin. The microchip stores a unique ID number that can be used to contact you if your pet is ever lost. The procedure is simple and can be performed during your pet's annual wellness exam.
How Does it Work?
Once the microchip is in place, you need to register it with the National Pet Recovery Database. This two-step process ensures you have the best chance at being reunited with your pet. If your pet is lost, any veterinary office or shelter can use their microchip scanner to obtain the ID number on your pet's chip. Once the shelter has this information, the microchip company is called, and they can tell you your pet's location.
Microchips rely on radio frequency, which means there are no moving parts or batteries, and microchips never expire.
The Importance of Microchipping Your Pet
Here are some reasons microchipping your pet is always a good idea:
Microchips can never be lost or stolen. Unlike a collar and tags, microchips can never be lost or stolen. They're a permanent source of identification that can settle ownership disputes and help thousands of pets reunite with their true owners.
Even indoor pets can sometimes escape. It's true, and we see it often, even with the most diligent owner. All it takes is one unfortunate circumstance to find your pet lost (no pun intended). And that's not even taking into account the unpleasant thought of natural disasters.
Microchips save lives. When pets are lost, they can get into trouble and end up at an emergency veterinary hospital. With a microchip, we can contact you right away and get your approval to treat your pet above and beyond basic life saving and comfort measures.
The procedure is safe and nearly painless. Inserting a microchip is similar to your pet receiving a vaccine. It doesn't require sedation or anesthesia (but may be performed at the same time if your pet is going under for a different procedure). Once the microchip is in place, your pet should not feel it at all.
Remember, if you move, simply call or visit the microchip company's website to update your address.
We hope this has shed some light on the importance of microchipping your pet. If you have any questions or would like to schedule an appointment, please contact us.
The post The Short Way Home: Microchipping Your Pet appeared first on West Park Animal Hospital Blog.