Simparica Trio for Dogs in Cleveland, Ohio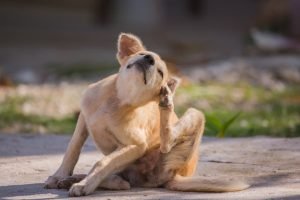 Every pet owner wants to keep their dog safe from parasites and illnesses in a way that won't break the bank. Luckily, Simparica Trio makes doing so simple and budget-friendly, and it's available to dog owners in the Cleveland, Ohio, metro area at West Park Animal Hospital. It's the best all-in-one heartworm, flea, and tick pill, promising comprehensive protection that's both affordable and easy to administer.
Effective against Parasites
The most comprehensive dog pill on the market, Simparica Trio requires only one pill per month to do the job of two or more competing products. It works fast to protect dogs against a trio of parasite types, including:
Heartworm disease
Fleas and five kinds of ticks
Roundworms and hookworms
Simparica Trio is also incredibly effective. Clinical trials demonstrated 100% effectiveness against heartworm disease after only one dose. The pill also begins killing fleas within four hours after administration, with full effectiveness within eight hours. 99% of ticks are dead within 48 hours of the first pill.
Preventing Fleas, Ticks, and Heartworms
If your dog has ever had fleas or ticks, you know that they don't just go away. These pests are expensive and difficult to get rid of, not to mention that they carry other diseases that may threaten your dog's health. Heartworm disease is another condition with a long, expensive treatment process and ill effects on your companion. In fact, any damage to the heart and lungs may remain long after the heartworms are eliminated.
Simparica Trio is an opportunity to avoid expensive vet bills and stressful treatments for all three of these conditions. With only one pill a month, you can prevent fleas, ticks, heartworms, and other parasites from appearing in the first place. It's easy, affordable, and comes with the peace of mind that your dog is safe from these common ailments.
Safe and Easy
It can be difficult to find parasite prevention that's safe for dogs of all ages. Simparica Trio, however, is approved and confirmed by the FDA to be safe for puppies as young as eight weeks and as small as 2.8 lbs. The pills come in conveniently color-coded boxes, making it easy to choose the right dosage for your pet. And instead of keeping track of several pills with different schedules, you can fully protect your dog with just one pill a month.
Administration is simple with pills that are small, palatable, and easy for dogs to chew. They're also tasty, so you don't need to worry about hiding pills in food, tricking Fido with treats, or struggling with other methods. Most dogs will voluntarily eat the Simparica Trio pill, resulting in less stress for you and your best friend.
Choose West Park Animal Hospital
When it comes to protecting your beloved pet against parasites, it's important to choose a local veterinarian that you can trust. West Park Animal Hospital has been serving the Cleveland region for more than 50 years with compassionate, top-quality wellness care, emergency services, and more. Plus, we're one of the few pet hospitals nationwide to be AHHA-certified. To learn more about what makes Simparica Trio the best all-in-one heartworm flea and tick pill for dogs, contact us today or stop by our office in West Park, OH.
Wellness Care
Thank you for your Cleveland Hot List votes. We were voted #1 again for the 5th year in a row! We are happy to continue to serve the community and appreciate your support.