PROVIDING QUALITY PET CARE TO CLEVELAND OH FOR MORE THAN 50 YEARS
H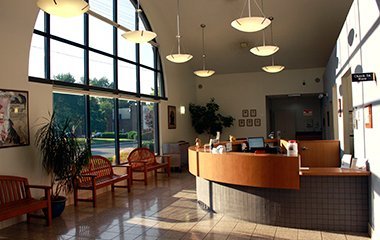 olding true to our core values since the early 1960s, we are proud to have served Cleveland, Lakewood, Fairview Park, and other surrounding Ohio communities with compassionate, quality veterinary care for more than 50 years. Such ingrained history is a testament to our strong dedication in providing you and your pet with only the best of care and first-class customer service. In addition, we are among a select few animal hospitals in the country that have earned an AAHA accreditation, ensuring that our superior methods, technologies, equipment, and facility are held to the highest of industry standards.
With a comprehensive list of advanced pet care services , you will find a full range of veterinary care accommodations from wellness exams, emergency care, and pet boarding to veterinary surgery, pet rehabilitation, pain management, and much more. Treating dogs, cats, and pocket pets, our doors are always open to new clients and referrals alike.
WEST PARK ANIMAL HOSPITAL HISTORY
A well-known patriarch of the Cleveland community, Dr. Robert Meister began his veterinary practice during the early 1960s in a converted building that was once operated by a local Lutheran Church. It is said that the pastor asked the congregation to help support the new, young veterinarian (also a parishioner of the church) so that he may be able to repay his loan for their building. His first patients of West Park Animal Hospital were formed and from that day forward, Dr. Meister's practice flourished into a successful, trusted business.
After almost 30 years, Dr. Meister sold West Park Animal Hospital to Dr. Borys Pakush in November 1996. Building upon Dr. Meister's beloved reputation, the hospital again began to grow. In 1997, Dr. Kane Henderson began working as an associate and later became a partner in March 2000. The two decided to expand the hours of operation and bring on more associates to accommodate the extra workload. Two of those first associates, Dr. Kari Swedenborg and Dr. Megan Culler, are now also partners in the practice. In the summer of 2003, it was decided to add an additional associate, and Dr. Scott Zielinski was hired. After several years of practice, he completed the partnership group of West Park Animal Hospital.
The five owners each take on different duties in the daily operations of the practice, in addition to fulfilling their lifelong dream of caring for animals.
Growth of the practice culminated in the opening of a new facility in November 2003. National attention was gained when we honorably won "Hospital of the Month" from Veterinary Economics magazine. Evening emergency hours were added in January 2006 to meet our clients' needs. The practice has been progressing, evolving, and growing ever since.
ABOUT US
Thank you for your Cleveland Hot List votes. We were voted #1 again for the 5th year in a row! We are happy to continue to serve the community and appreciate your support.
TOUR OUR HOSPITAL
MEET OUR STAFF