About Our Cleveland, OH Pet Hospital
Y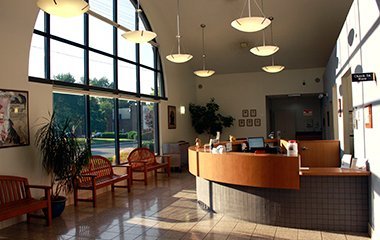 our pets are a part of your family, and you always want to make sure they receive the best quality care. Trust the experts at West Park Animal Hospital, who have served Cleveland, Fairview Park, Lakewood, and other surrounding Ohio areas for more than 50 years. Our staff are committed to providing you and your pet with the best of care and customer service.
Our History
West Park Animal Hospital has been well-known in the Cleveland area for many years for our exceptional service. Dr. Robert Meister founded his veterinary practice in the 1960s and operated it successfully for almost 30 years.
In the 1990s, Dr. Meister sold West Park Animal Hospital to Dr. Borys Pakush, and he continues to carry on the legacy of first-class veterinary care. Over the years our team has grown to include 4 more dedicated and compassionate partners: Dr. Kane Henderson, Dr. Kari Swedenborg, Dr. Megan Culler, and Dr. Scott Zielinski. All of our owners perform different duties in our practice but remain committed to providing the best care possible to your pets.
Our Strengths
West Park Animal Hospital has been a pillar in the Cleveland, OH area and surrounding communities for many years because we aim to provide high-quality veterinary care with an emphasis on communication and education of our clients. We are one of just a few AAHA-accredited animal hospitals in the country, assuring that our procedures, technology, equipment, and facilities meet the highest industry standards.
Services
We offer a comprehensive list of veterinary healthcare services to dogs, cats, and other small companion animals. Our expert veterinary professionals are fully suited to care for pets at all stages of life and with a variety of health issues. We offer a multitude of services to meet your pet's needs, including:
Wellness Exams
Veterinary Surgery
Pet Rehabilitation
End of Life Care
Eye Care
Dental Care
Pain Management
Emergency Care
View the full list of services we offer. Along with offering emergency care, we have also extended our hours until 1:00 a.m. for emergencies because we know they can happen at any time. We are pleased to offer annual wellness consultations for your dog or cat, as well as provide new pet owners with required assistance, such as vaccination regimens and general exams. For your convenience, we also provide microchipping services, customized diagnostic packages for older pets, as well as comfortable boarding choices for pets with medical issues.
Our Mission
The mission of West Park Animal Hospital is to deliver the best possible veterinary care to our clients by offering the most innovative and comprehensive medical and surgical procedures, with a focus on customer education and communication. By employing a compassionate and talented team of well-trained veterinary professionals, we are committed to providing the most current therapy with compassion and respect to our patients.
Contact Us Today for Pet Care in the Cleveland, OH Area
Whether your furry friend just requires a check-up or has an emergency need, depend on the veterinary experts at West Park Animal Hospital to provide the best care possible. We have served the Cleveland, Lakewood, Fairview Park, and other surrounding Ohio communities with first-class veterinary care for more than 50 years. Contact us today to book an appointment for your pet or learn more.
ABOUT US
Thank you for your Cleveland Hot List votes. We were voted #1 again for the 5th year in a row! We are happy to continue to serve the community and appreciate your support.