Orthopedics for Pets in Cleveland, Ohio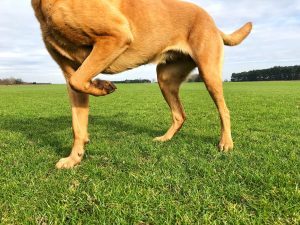 As most pet owners know, cats and dogs can experience injuries and illnesses. These sometimes require the services of a veterinarian experienced in orthopedics, the structures, and the functions of pet skeletal systems. Orthopedic procedures often include surgery. At West Park Animal Hospital in Cleveland, Ohio, companion animals can get help from experienced pet surgeons with a special interest in orthopedics for a variety of conditions at an American Animal Hospital Association (AAHA) accredited veterinary practice.
Veterinarians with a Special Interest in Orthopedics
These experienced veterinarians treat animals of all sizes. At West Park Animal Hospital our veterinary services focus on cats and dogs. They are skilled at examinations of the skeletal system and using diagnostics including radiographs. There are a variety of procedures and techniques utilized by our team to provide diagnosis and treatment for orthopedic issues.
Advanced Pet Orthopedics Services
Pet orthopedics is a branch of veterinary medicine that is concerned with the bones, joints, ligaments, muscles, and tendons that make up the skeletal system. When dogs and cats have issues with these areas of the body, they may experience limited mobility or pain. Our veterinarians with a special interest in orthopedics are experienced in advanced orthopedic procedures to help companion animals regain activity levels through the use of medications, surgeries, pain management, and rehabilitation.
Common Pet Orthopedic Procedures at West Park Animal Hospital
Several issues and conditions are commonly brought to our practice. Our surgeons practice high-quality, evidence-based care along with advanced technologies and equipment. With the help of our experienced veterinarians, we handle the following problems and procedures:
Tibial tuberosity advancement (TTA) and lateral suture to repair torn caudal cruciate ligaments (also known as ACL in humans)
Luxating patella, mobility in the kneecap that interferes with movement
Bone fracture repair, stabilization with plates, screws, and pins
Limb amputations related to injury, cancer, or other diseases
Hip dysplasia management, including FHO surgery (Femoral Head Osteotomy), medication, and rehabilitation techniques
Arthritis, including medication management, rehabilitation, and client education
An in-house intensive care unit (ICU) is available for monitoring and recovery post-surgery. And our experienced team can assist pet owners when caring for their companion animals after a surgical procedure, with incision care and instructions regarding pain medications, initial movements, and building flexibility. Our rehabilitation services include advancements, such as massage therapy, physical therapy, and an underwater treadmill to relieve weight during exercise.
Bring Your Pet to West Park Animal Hospital in Cleveland, Ohio
If you live in West Park, North Olmsted, Berea, Rocky River, Lakewood, Fairview Park, or Cleveland, as well as other surrounding areas in Ohio, bring your companion animal to our state-of-the-art veterinary practice. West Park Animal Hospital boasts a large team of veterinarians, registered veterinary technicians, veterinary assistants, and an animal care team.
Our management and administrative teams provide customer service that is centered on meeting the needs of both you and your pet. We offer continuing care for cats and dogs, providing everything your pet needs in one place, including same-day emergency and intensive care services, orthopedic and internal medicine, dental and eye care, end-of-life care, and more! Let our experienced doctors and veterinary team help keep your companion animal healthy and happy. Contact us today.
SERVICES
Thank you for your Cleveland Hot List votes. We were voted #1 again for the 5th year in a row! We are happy to continue to serve the community and appreciate your support.