Senior Pet Care Services in Cleveland, OH
p
rompt, advanced veterinary care is important for cats and dogs of all ages. As pets age, quality internal medicine grows even more important. In addition to minor illnesses and other causes for concern, conditions like diabetes, pet dental disease, Cushing's disease, cataracts, glaucoma, and arthritis are all more commonly seen in senior animals. To meet the health needs of older pets, West Park Animal Hospital in Cleveland, Ohio offers senior pet care services for cats and small dogs at 10 years old and large dogs age 8 or older.
Preventative Services
As our beloved pets age, so do their immune systems. While their ability to fight disease becomes weaker, the likelihood of developing a serious illness or disease greatly increases. Due to this increase in susceptibility to sickness or injury, West Park Animal Hospital recommends bringing your furry friends in for veterinary wellness exams once or twice a year. Our comprehensive senior pet wellness care checkups include:
A complete physical
As-needed vaccinations
Intestinal parasite tests
Nutritional counseling
We also offer valuable senior pet diagnostic testing to encourage disease prevention and early detection.
Pain Management Services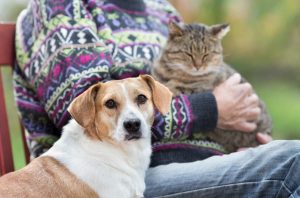 There's little worse than knowing your loyal companion is in pain. If your pet suffers pain due to health conditions or injuries, West Park Animal Hospital offers pain management services tailored to senior cats and dogs. We use advanced technology and diagnostics to pinpoint the pain's source and cause, then create a custom treatment plan. Our FDA-approved pain management treatments include:
Non-steroidal medications
Narcotics
Supplements like glucosamine
Nerve block injections
Laser surgery for a variety of conditions
WARNING: DO NOT give your pet human medications for their pain, such as Advil or Ibuprofen. These are not safe for cats and dogs and may ultimately harm your pet.
Place Your Trust in Us
We're more than an emergency room – we're dedicated to preserving your pet's wellness throughout every stage of life. With a team of knowledgeable veterinarians and a complete pet pharmacy, West Park Animal Hospital is Cleveland's most reliable and convenient choice for senior pet care. To schedule an appointment for any other concerns, please call us at 216-252-4500. In the event of an emergency, visit us right away at 4117 Rocky River Dr in Cleveland.
Wellness Care
Thank you for your Cleveland Hot List votes. We were voted #1 again for the 5th year in a row! We are happy to continue to serve the community and appreciate your support.