LIFE-SAVING EMERGENCY PET CARE IN CLEVELAND OH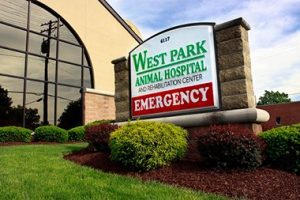 Welcoming walk-in pet emergencies from 5 p.m. to 1 a.m. every day (including all holidays), we attentively treat dogs, cats, and pocket pets. A reliable veterinarian is always on duty during these extended business hours, and you can also depend on our highly trained veterinary technicians to provide 24-hour monitoring to those in critical condition or intensive care. We also accept critical emergencies during regular business hours; however, a notification call prior to your arrival is preferred.
Certified by the renowned AAHA, every aspect of our practice is held to the highest of veterinary standards. We are proud to provide you and your pet with only the most advanced veterinary emergency methods, equipment, and compassionate, quality animal care.
If you are experiencing a small animal emergency, please contact us immediately. We will guide you through proper instructions on how to appropriately transport or tend to your injured or sick pet. Remember to stay calm so you can think clearly and comfort your ailing friend.
PET EMERGENCY CONTACT INFORMATION
West Park Animal Hospital
4117 Rocky River Drive
Cleveland, OH 44135
(216) 252-4500
EXTENDED VETERINARY EMERGENCY HOURS
Sunday: 8 a.m. – 1 a.m.
Monday: 5 p.m. – 1 a.m.
Tuesday: 5 p.m. – 1 a.m.
Wednesday: 5 p.m. – 1 a.m.
Thursday: 5 p.m. – 1 a.m.
Friday: 5 p.m. – 1 a.m.
Saturday: 5 p.m. – 1 a.m.
SERVICES
Thank you for your Cleveland Hot List votes. We were voted #1 again for the 5th year in a row! We are happy to continue to serve the community and appreciate your support.