Intensive Care Unit for Pets in West Park, Ohio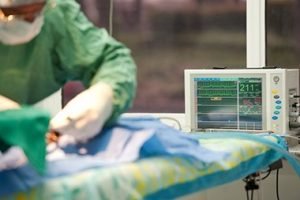 I
f your pet suffers from an emergency sickness, life-threatening disease, or traumatic injury, take them to West Park Animal Hospital for the compassionate care they deserve. Located in Cleveland, Ohio's West Park, we deliver the most advanced veterinary methods and equipment in the pet intensive care unit and offer high-quality customer service to all pet owners. People living in our area, as well as North Olmsted, Berea, Rocky River, Lakewood, Fairview Park, Cleveland, and beyond, can trust their pets are in safe hands at our AAHA-certified clinic, where we hold every aspect of our practice to the highest standards.
What to Expect in the Intensive Care Unit
When you bring your pets to our facility, they will be met with an elite team of professional veterinarians, registered veterinary technicians, and other well-trained staff members. One of our veterinarians will observe your pet to decide what care is needed. We also offer numerous patient stabilization and safety benefits, including:
24-hour monitoring by skillfully trained veterinary professionals
Oxygen cages if your pet demands oxygen support
Fluid pumps to hydrate your pet and administer medications and treatment
A strategic location in the middle of the hospital that provides for continual and maximum examination by the whole staff
We care for every dog and cat with loving hearts, gentle touches, and warm spirits to give pet owners peace of mind. To make your furry companion feel comfortable and secure in the pet intensive care unit, we provide exceptional pet pain control through various therapeutic medications and procedures. As animal lovers ourselves, we're determined to treat pets like family from the moment they enter their door until they fully recover.
How to Know if Your Pet Needs Intensive Care
Many pets who receive intensive care experienced emergency health situations that led them to the unit. However, sometimes it's challenging to know if the symptoms your dog or cat display require immediate attention. Animals that face the following health issues should get urgent care:
Bleeding from orifices or bleeding that continues beyond five minutes
Choking, gagging, or non-stop coughing
Heatstroke
Ingestion of poison substances (i.e. chocolate, human medications, rat poison, etc.)
Pain when urinating or passing stools, or an inability to do either
Signs of anxious behavior or extreme pain
Unusual gait or seizures
Two or more episodes of diarrhea or vomiting in 24-hours or these symptoms combined with any of the other symptoms previously mentioned
Eye injuries
Fractured bones or severe limping
Loss of consciousness
Refusal of fluids for 24 hours or more
If your cat or dog displays any of these symptoms, reach out to us immediately. We'll carefully walk you through each step to care for pets before they get to our clinic.
Choose Pet Intensive Care from West Park Animal Hospital
We're delighted to offer continuity of care at West Park Animal Hospital, which means our emergency care and general practice are in the same location. In one convenient clinic, we deliver various advanced veterinary services besides pet intensive care, including:
Whatever health condition your dog or cat faces, be sure they'll find attentive and friendly veterinary professionals in the intensive care unit at West Park Animal Hospital. We are honored to serve pets and people living in West Park, North Olmsted, Berea, Rocky River, Lakewood, Fairview Park, Cleveland, as well as other surrounding areas. If you'd like additional information on our pet intensive care unit, contact us today.
SERVICES
Thank you for your Cleveland Hot List votes. We were voted #1 again for the 5th year in a row! We are happy to continue to serve the community and appreciate your support.