VETERINARY INTENSIVE CARE UNIT BOASTS PRESTIGIOUS ATTENTIVENESS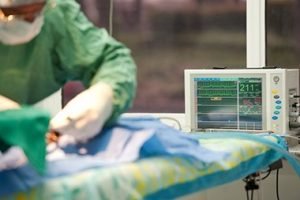 As an AAHA-certified veterinary clinic in the Cleveland, Ohio, area, every aspect of our practice is held to the highest of standards. You can expect only the best in quality pet care and first-class customer service. Whether your companion animal suffers from a life-threatening disease, traumatic injury, or an emergency sickness, we are proud to provide you and your pet with only the most advanced veterinary methods, equipment, and compassionate care.
Our intensive care unit is fully equipped to match any needs and is home to an elite team of professional veterinarians, registered veterinary technicians, and other skillfully trained staff. For additional safety and patient stabilization benefits, the West Park Animal Hospital intensive care unit boasts:
24-hour monitoring by trained veterinary professionals
Oxygen cages
Fluid pumps
A location strategically centered in middle of our Cleveland, Ohio, hospital, allowing for optimal and continual observation by the entire staff
Paired with excellent pet pain control, you can rest assured that your pet will be treated just like family. Handled with a gentle touch, caring heart, and a warm friendliness, our number one priority is to create a relaxing, peaceful environment where your pet feels comfortable, safe, and secure during recovery. As animal lovers ourselves, we will always go the extra mile to ensure that your pet is given the most prestigious health care possible.
If you have any questions or would like to request further information regarding our veterinary intensive care unit, please feel free to call us during business operating hours.
SERVICES
Thank you for your Cleveland Hot List votes. We were voted #1 again for the 5th year in a row! We are happy to continue to serve the community and appreciate your support.