COMFORTING & SAFE PAIN MANAGEMENT FOR YOUR COMPANION ANIMAL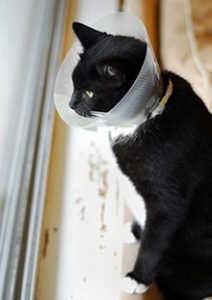 If your little furry friend seems to be in pain from illness, injury, veterinary surgery, arthritis, or any other factor that can inflict discomfort on your pet, the doctor will choose from many trusted pain management options through our West Cleveland, Ohio, veterinary hospital. Not only will your pet be able to make it through each day much more comfortably, but also he or she will also reap several other benefits, such as:
Reduced stress
Increased level of general wellbeing and health
Possibly a faster, improved recovery time
Lowered chances of re-injury or advanced, secondary complications
Greater probability of living a longer, happier, healthier life
PET PAIN MANAGEMENT OPTIONS
Whatever you do, please do NOT give your pet human medications such as Advil or Ibuprofen. This is not safe and can ultimately harm your companion animal. At West Park Animal Hospital, we can provide you with a safe, trusted, and appropriate means of prescribed pet pain management that has been FDA-approved. Some options include:
Non-steroidal medications
Narcotics
Supplements like glucosamine
Nerve block injections (a numbing injection used during teeth extractions or declaw surgeries, for example)
Laser surgery (an overall less painful method of surgery using a laser rather than a scalpel)
HOW WILL I KNOW IF MY PET IS IN PAIN? SIGNS AND SYMPTOMS OF DISCOMFORT IN ANIMALS
It is important to familiarize yourself with your pet's daily routine and behaviors so that you may easily identify when something isn't quite right. If you notice any sudden and persistent changes, please schedule an appointment with us as soon as possible so that we can assess, diagnose, and immediately treat your pet for any health care problems that may arise. Often times, the following signs and symptoms indicate that your companion animal may be feeling discomfort or pain:
Sudden change in appetite or water intake
Unresponsiveness; being uncharacteristically quiet and still
Unusual aggressiveness, especially if you touch or pet a tender spot
Uncommonly seeking extra attention; not leaving your side
Shaking
Heavy, persistent panting
Exceptional crying, whining, whimpering, or meowing
Hiding
Inability to get comfortable, constantly shifting positions and displaying restlessness
Sleeplessness
Acting out of character
Pinning the ears against the head
SERVICES
Thank you for your Cleveland Hot List votes. We were voted #1 again for the 5th year in a row! We are happy to continue to serve the community and appreciate your support.