Pet Loss Library in Cleveland, OH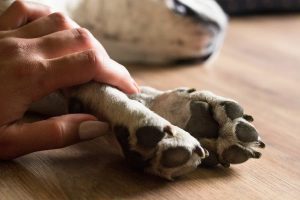 At West Park Animal Hospital, we understand the pain and grief our clients feel when companion animals pass away. To help ease this difficult time, we have developed a pet library that provides supportive pet resources for those who have lost a beloved animal. Located in the West Park area of Cleveland, Ohio, we care for animals from surrounding towns, including North Olmsted, Berea, Rocky River, Lakewood, Fairview Park, and beyond. Our team shares in your grief, and our hope is that family members and friends are helped by the included stories and expert advice.
Pet Loss Articles
Professionals from a variety of fields write about the loss of their pets and their resulting feelings of grief and sadness. These are personal stories. They share the details of their losses in the hope that it will help others.
Family caregiver and pet owner Linda J. Austin writes about the experience of caring for her animals, including a German shepherd and rabbits. Experience guides her decision-making when handling health challenges.
Providing psychotherapy to those who experience the death of their pets, Kitty Walker, writes about the loss of her own sheltie. She offers helpful tips for getting through the winter holidays and honoring the memory of your pet.
Katie Boland is a healthcare activist in the fertility field. Writing about losing several pets during one summer, Boland shares how advice from other people wasn't always helpful and offers ideas about spirituality and grief.
Stories about Pet Loss
People from all walks of life share how their pets passed away, the care options they faced, and how they have handled the grief. In this collection of stories, you may find one that resonates with your experience.
After losing both cats to car accidents in the aftermath of the 9/11 attacks in New York City, this writer shares advice about pet care.
This writer called on veterinary professionals to help their dog escape pain and discomfort after treatments for stomach cancer lost effectiveness.
When beloved cat Lizzie is hit by a car, this writer details her experience of not being there and her personal need for ritual and closure.
The death of a pet bunny leaves the writer of this story with questions about care choices.
When their white Maine coon dies of hypertrophic cardiomyopathy, he is missed by all of the remaining human and animal family members.
Ask the Experts
Professional counselors, Kelly Baltzell, Ph.D., and Kitty Walker, LMSW-ACP, answer questions submitted by those who have lost a pet, are facing separation from their pet, or have concerns about how their pet died. The staff at West Park Animal Hospital hopes that if you have similar questions or issues, these articles may be of assistance.
Consult West Park Animal Hospital Pet Care and Resources
By sharing these stories and advice on losing family pets, we hope to help you find a way through grief. Our pet resources include information about caring for puppies and kittens, as well as caring for pets well into their senior years. We proudly serve pets in West Park, North Olmsted, Berea, Rocky River, Lakewood, Fairview Park, Cleveland, and other areas of OH. Contact us today for more information.
FEATURED STORY
LOVE OF MY LIFE
Yesterday morning, just 24 hours ago, I had to put my beloved puppy, Freddy to sleep. I can not begin to describe the pain I am feeling. I have lost every single family member except for my sister and none of those losses can compare with how I am feeling now.
PET RESOURCES
Thank you for your Cleveland Hot List votes. We were voted #1 again for the 5th year in a row! We are happy to continue to serve the community and appreciate your support.
TOUR OUR HOSPITAL
MEET OUR STAFF