Pet Fracture Repair in Cleveland, Ohio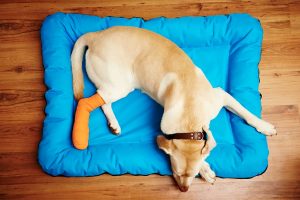 As in humans, a fractured bone in a pet needs immediate treatment that can't be provided at home. A bone can break in many ways, and requires a specialized diagnosis and treatment by a professional to ensure a full recovery. At West Park Animal Hospital in Cleveland, Ohio, we have decades of experience serving West Park, North Olmsted, Berea, Rocky River, Lakewood, Fairview Park, Cleveland, and the surrounding areas with the latest state-of-the-art treatments for animals with fractured bones.
Recognizing a Fracture in Your Pet
There are a number of reasons that a pet may break a bone, though the most common reasons are the same reasons humans sustain fractures: falls, sports injuries, car accidents, and the like. Typically, fractures in pets are easy to spot, with the animal displaying signs such as:
Limping
Holding up the affected limb
Swelling
Pain to the touch or while moving
Additionally, there are various places and ways a bone can fracture, which requires proper diagnostic work. At West Park Animal Hospital, we use digital X-ray photography to get the most accurate assessment of the issue at hand so we can then offer the best possible individualized treatment plan for your pet.
Specialized Fracture Care for Pets
Our goal is the same as yours: to get your pet healthy again and back to enjoying their life with you and your family. The skilled staff at West Park Animal Hospital offers the following services to provide the best care for your pet:
Veterinary Surgery
In some cases, the best option for a fracture repair is veterinary surgery to correct the fracture. It will always be a priority to stabilize and immobilize a fracture, but sometimes the only way to do so is by adding screws and plates in a surgery to ensure the bone heals properly. Whether scheduled or in the case of an emergency surgery, we're standing by and ready to provide the best possible care for your pet. We have a highly trained, skilled veterinary staff to perform surgeries, as well as offer the highest quality of post-operative care to ensure a smooth recovery.
Rehabilitation and Orthopedic Care
If a pet doesn't require surgery, non-invasive treatment options, like physical therapy or medication, may be appropriate. These therapeutics are also a part of a pet's recovery after fracture repair surgery.
Sometimes, these treatments can be performed by you at home, and in such a case, your veterinarian can explain what you'll need to do and what to avoid. Other times, however, your pet may need to receive more specialized treatment or rehabilitation to ensure their injury recovers properly. Our team is able to provide skilled orthopedic treatments and rehabilitation services to help quickly and safely get your pet feeling as strong and healthy as before the fracture. Some of the treatments we can perform are:
Underwater treadmill treatments
Use of a TENS unit
Massage therapy
Muscle and tendon stretching
Hot and cold therapy
Physical therapy
Bring Your Pet to West Park Animal Hospital
When your pet sustains an injury like a fractured bone, seek a veterinary professional for high-quality care as soon as possible. At West Park Animal Hospital, our highly skilled staff has been serving Cleveland, Ohio, and the surrounding areas for decades and has developed a reputation for offering the highest level of veterinary fracture care possible. To learn more about the services we offer, please don't hesitate to contact us.
SERVICES
Thank you for your Cleveland Hot List votes. We were voted #1 again for the 5th year in a row! We are happy to continue to serve the community and appreciate your support.