Mission Statement of Our Pet Hospital in Cleveland, OH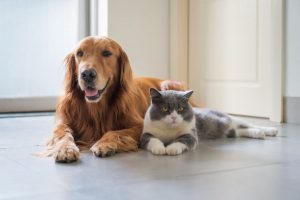 A
t West Park Animal Hospital, we know your pet isn't just any animal – they're a member of your family. That's why we focus on delivering high-quality, compassionate medical care and other services. Located in Cleveland, Ohio, our pet hospital serves animals and their owners in Cleveland, West Park, Fairview Park, Lakewood, North Olmsted, Rocky River, Berea, and the surrounding areas.
Our Mission Statement
Our mission is to provide the highest quality veterinary care through the most advanced and comprehensive medical and surgical services, with special emphasis on client communication and education. It is our commitment to deliver the most current therapy with compassion and respect to our patients, clients, and communities we serve by employing a highly skilled team of well-trained, caring professionals.
Comprehensive Medical and Surgical Services
West Park Animal Hospital provides complete medical care for pets at all ages and stages. We provide all the health services your pet may need, such as:
We proudly serve pets in our state-of-the-art facility, which includes:
Client Communication and Education
At West Park Animal Hospital, we strive to provide our clients with all the tools they need to be responsible and confident pet owners. Some of our resources include:
Recommendations for pet food, pet insurance, and specialty care providers
Blog with educational posts about pet care, wellness, and behavior
Pet gallery where you can share pictures of your beloved furry friend
We know how concerning it can be when your pet seems sick – if only they could tell us what's wrong. Our veterinarians will take time to listen to your concerns, thoroughly examine your pet, and help you understand the signs and symptoms they may exhibit when ill.
Current Therapies and Technology
When you bring your pet to West Park Animal Hospital, you can be confident that our team is well-versed in the latest tools and therapies to keep your pet healthy. We have a full onsite laboratory where our team can conduct diagnostic tests, including parasite screenings, blood work, urinalysis, and thyroid evaluations.
We also offer rehab services for pets recovering from surgery or injury. Pets can benefit from massage therapy, stretching, transcutaneous electrical nerve stimulation (TENS), and therapy on our underwater treadmill.
A Highly Skilled Team
As one of the few American Animal Hospital Association (AAHA)-accredited animal hospitals in the country, you can feel confident that the medical team at West Park Animal Hospital meets the highest industry standards. Our team of veterinarians, veterinary technicians, and administrators is dedicated to providing top-level care for your pet.
Get in Touch With West Park Animal Hospital
If you're looking for a pet hospital that provides comprehensive care in a friendly and welcoming environment, consider West Park Animal Hospital. Serving pets in Cleveland, OH, and the surrounding areas, we're proud to be voted the #1 animal hospital on the Cleveland Hot List for five years in a row. To learn more about our veterinary services, contact us today.
ABOUT US
Thank you for your Cleveland Hot List votes. We were voted #1 again for the 5th year in a row! We are happy to continue to serve the community and appreciate your support.