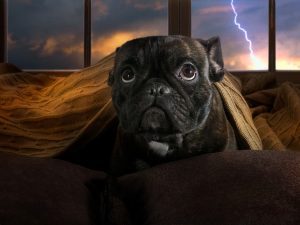 Many dogs are impacted by thunderstorms, fireworks, and other noisy events. These loud booms and scary sounds may make your dog feel nervous and sometimes lead to shaking, panting, hiding, and whining. Pet owners with dogs who are sensitive to these loud sounds may want a non-medication solution to help soothe their dog's anxiety during storms and other stressful events. Here, we'll explain how the thunder jacket for dogs can help calm your anxious canine.
Understanding the Thunder Jacket for Dogs
Thunder jackets for dogs, also sometimes referred to as thundershirts and thunder vests, are basically a swaddle for your pup. They are typically made of a soft and thick material that wraps tightly around your dog's torso with snaps, buckles, or Velcro on the sides. Their purpose is to apply gentle pressure on your dog, providing a feeling of security and relieving their anxiety. The idea is similar to people using compression or weighted blankets to calm and de-stress. Thunder jackets come in an assortment of styles, but they all accomplish the same thing for your pup.
When to Use a Thunder Jacket on Your Dog
Contrary to their name, thunder jackets aren't only used for stress brought on by thunderstorms. They work great for any stressful event and can relieve dog anxiety in many scenarios. For example, you may want to put a thunder jacket on your dog if they become easily stressed or express fear in the following situations:
Trips to the vet
Going to the groomer
Fireworks
Construction or loud road work near your home
Large crowds in the home (parties, holidays)
Separation anxiety
Windstorms
Some ways your dog may exhibit stress during situations like these include heavy panting, pacing back and forth, barking non-stop, hiding or trying to get into small spaces, and shaking. If you notice your dog displaying any of these behaviors and believe it may be due to fear or anxiety from noises or events, you can gently approach them with a treat to gain their trust, and then calmly place the thunder vest around them. If you aren't sure whether your dog is nervous due to an event like the ones stated above, or you think it may be something more serious, you should always reach out to your veterinarian.
Familiarizing Your Dog with the Thunder Jacket
Although thunder jackets can be extremely beneficial and successful in calming a dog's nerves, adjusting to the vest comes with time and practice. As with anything new, it will take time for your pet to get accustomed to the clothing. Instead of suiting up your already-anxious dog in a thunder vest during a storm or stressful event, try the following:
Test it during non-stressful situations: Put the jacket on your dog for a few minutes when they are relaxed. This will help get them used to the jacket and make it more familiar and comfortable when they need it.
Don't force it: If your dog seems uncomfortable in the jacket, you shouldn't force it on them. Take it off for a few moments and try it again later. You don't want to amplify their stress.
Utilize positive reinforcement methods: Offer your dog treats or pets when you take the vest out. This strategy allows them to associate the thunder jacket with rewards.
Keep Your Dog Happy and Healthy with West Park Animal Hospital
Pet owners in West Park, North Olmsted, Berea, Rocky River, Lakewood, Fairview Park, Cleveland, and the surrounding areas in Northeast Ohio who want to know more about thunder jackets and vests for their dogs can turn to West Park Animal Hospital for help. You can also visit our new clients page to learn all about getting care for your pets at our facility. For more information on thunder jackets for dogs, additional pet resources, or any other questions, contact us today.