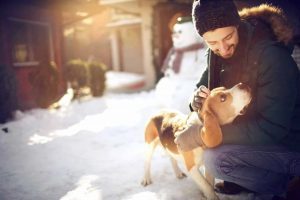 Well, we understand that most of us may not be ready for the idea of cold, snow, and shoveling, but the time will soon be upon us. Along with some of the checklists you might have for winterizing your car or home, adding your pet to the list will also help ensure all their winter needs are met.
With less outdoor play time and all the extra gear you might need to keep them warm, Cleveland winters can take their toll on our furry friends. The West Park Animal Hospital team has some pet winter safety tips so when the time arrives, you and your best pal will be prepared.
Chilling Out for the Chilly Season
Relaxing inside is about all we care to do when the weather drops below freezing. While we may be able to hit the gym or go for a coffee, our pets end up spending all their time indoors. Despite a pet's propensity for naptime, a lack of activity and exercise can result in added weight and behavioral problems associated with boredom.
To keep your pet moving this winter:
Buy some new toys that are appropriate for the indoors, such as Canine Genius, ChuckIt Indoor Ball, or Hide a Squirrel Puzzle.
Kitty cats also need enrichment and exercise. Have you considered a new cat tree or window perch where they can watch the birds?
Opt for afternoon walks with your pup, when the temperatures have risen. Make sure to dress for the occasion (coat, boots, or rainwear), and head to the park for some much needed doggie social time.
For pups who need to burn off a lot of energy, you may wish to sign them up for doggie day care – a great way to socialize and get exercise.
Pet Winter Safety and Gear
Everybody loves the time of year when we can break out our most fashionable boots and favorite sweaters. There's something so cozy about bundling up when it's cold outside. Your pet is also going to need their own winter attire.
Some of the following winter clothing and gear are musts for the season:
Coat
Sweaters
Scarf
Rain gear or waterproof coat
Heavy or durable booties for walking/hiking or outdoor fun
If your pet is a senior sweetie, a small breed, or has a health condition, the cold snap can be harder on them. Invest in some extra warm clothing for outdoors, as well as sweaters and a self-warming dog bed or extra blankets to keep them comfortable inside.
The Importance of Winter Grooming
Hot summer months are an obvious instigator of a pet's grooming needs; however, pets need grooming in winter just as much. In fact, winter months have a way of causing chronic dryness and other skin conditions when left unattended. Additionally, deicers and road chemicals can be bad for your pet's paws. Not only are they toxic, but they're also very drying and can lead to irritation.
Your primary veterinarian at West Park Animal Hospital can recommend good moisturizing shampoos and conditioners for those with dry, itchy skin.
Grooming will help keep the paws, nails, skin, and coat at their best during the cold, harsh months ahead.
Winter is Coming…
We all know there will be some rough days ahead. By being prepared with all the tools and gear to combat the cold, your pet will feel great through the winter months.
The post Thinking Ahead About Pet Winter Safety and Cold Weather Gear appeared first on West Park Animal Hospital Blog.