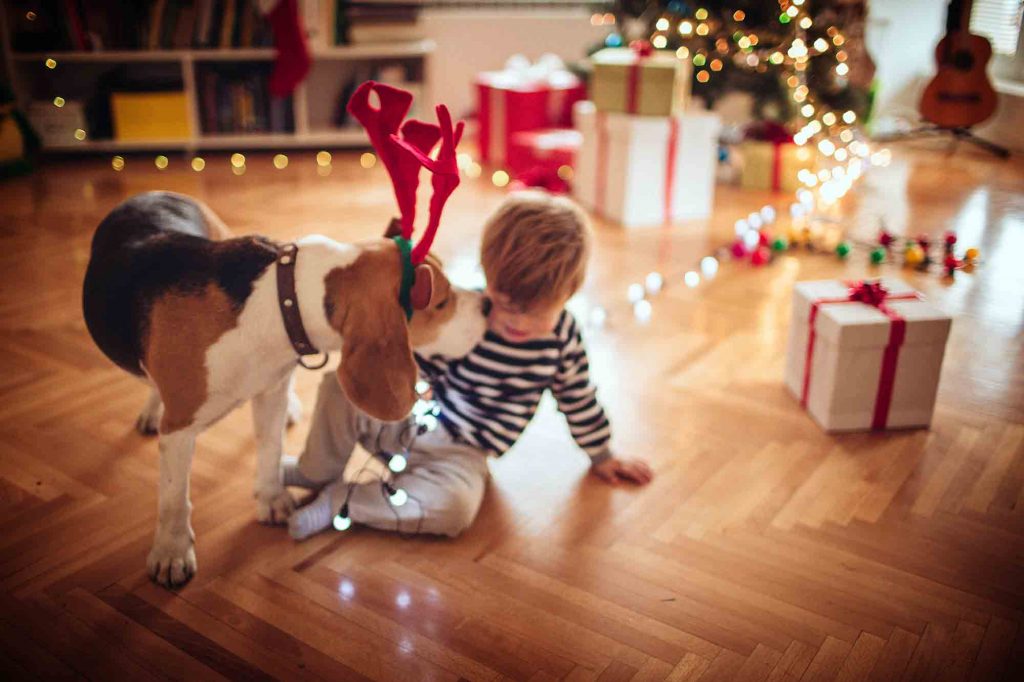 Looking at old holiday photographs, it's interesting to see the decorative choices that were made. Bright silver-looking artificial trees, aerosol-spray artificial snow, and mounds of tinsel all contribute to some warm and fuzzy memories, but luckily, these were mostly fads from a different era.
Current holiday decorations might be more tasteful and refined, but like all flashy, glittery, and attractive seasonal additions to the home, they still pose risks to holiday pet safety.
Real Threats
Even though we're always here if your pet needs us, we understand that pretty much no one wants to spend the holidays in the ER – especially pets. However, like their human friends, many pets simply cannot help themselves when presented with so many new things to smell, taste, sample, and admire. Yes, the holidays are intoxicating on many levels, and strict adherence to holiday pet safety can become an afterthought.
What's Real?
There are many real threats to holiday pet safety, but some are considered more dangerous than others. Unfortunately, the dangers of holiday decor can escape even the most observant and protective pet owners, so it's critical to keep ahead of your curious four-legged friend.
Protect Your Pet
Tinsel and ribbon are major offenders during the holidays. Not only strewn about the entire holiday tree, tinsel can also fall to the floor where it can be found and promptly eaten by a pet. It's shiny and utterly tantalizing, but eating tinsel can result in serious GI distress or even death.
Ribbons come with the same risk, so please be cautious of wrapped presents on the floor.
Light it Up
Of course, string lights are ubiquitous this time of year. Please ensure that your pet cannot access them on the floor, and deter any biting or chewing on the wires/cords. Animals can also become entangled in string lights.
Shiny and Bright
Glass ornaments, snow globes, and other breakable baubles might need to be stowed away if your pet shows a great deal of interest in them. If broken, glass or ceramic shards can cut delicate paws, and they can cause serious damage if accidentally eaten.
Imported snow globes have been found to contain ethylene glycol, or antifreeze, so do not keep them where pets can easily break them or knock them over.
Anything that can become a choking hazard must never be displayed or left out for your pet to discover.
Too Hot
Lit candles, simmering liquid potpourri, and aromatherapy oil can cause burns, tremors, and more. Please do not use in a room frequented by your pet.
Abundant Greenery
A general rule about holiday pet safety includes restricting access to popular holiday greenery. The Christmas tree, for example, can contain fertilizer, pesticides, and toxic preservatives that leach into the water stand.
Also, mistletoe, poinsettia, holly, lilies, Christmas cactus, and amaryllis should only be displayed on shelves that your pet cannot get to.
Holiday Pet Safety
If we can assist you with any questions or concerns about holiday pet safety, please contact our caring veterinarians and staff. From all of us at West Park Animal Hospital, we wish you and your family a happy holiday season!
The post The Elephant in the Room: Holiday Pet Safety May Hinge on the Decor appeared first on West Park Animal Hospital Blog.