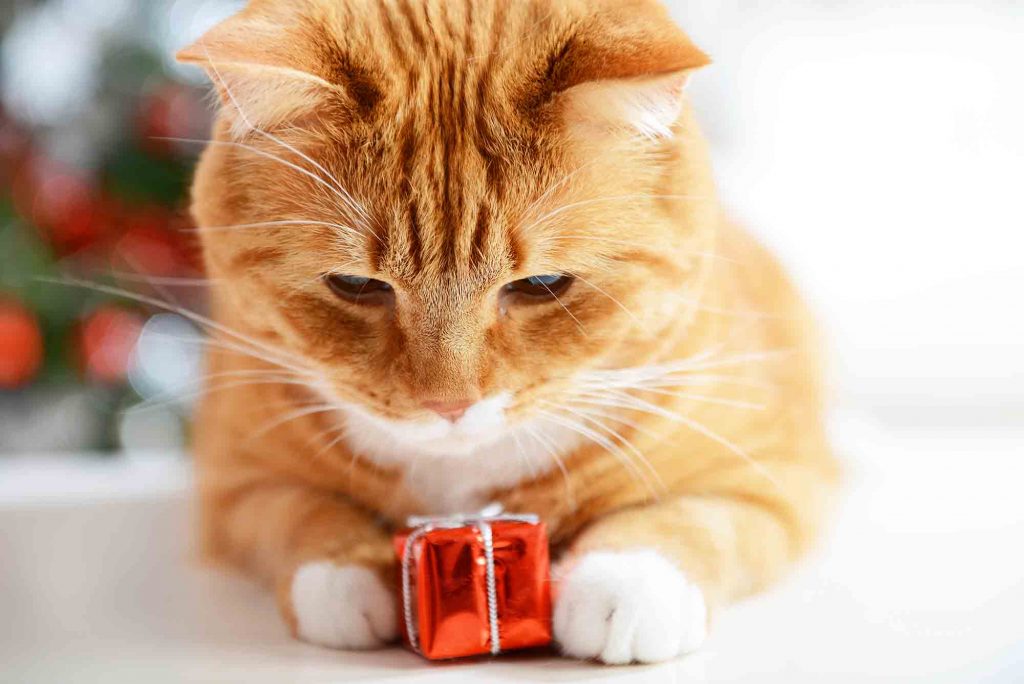 Whether you've had your home completely decorated and all of your meals and gatherings planned since November, or you take a more minimalist (and last-minute) approach, there's a certain element of nostalgic joy that goes along with the sights, sounds, and smells of the holidays. This time of year probably doesn't evoke the same emotions in your cat, but it may bring about intense curiosity, playfulness, and even stress that could get a kitty into hot water.
The gift of a cat friendly holiday is something any of us can create with a little bit of planning and preparation. Your ….
Tips for a Cat Friendly Holiday to Purr About
Create the ideal environment for your furry family member with our cat friendly holiday ideas:
The tree – It's the rare cat who isn't fascinated by some aspect of the Christmas tree, whether that's the ornaments, the branches, the water, or all three! Keep the tree secured to prevent toppling, and cover the water in a real tree as it may contain harmful fire retardants and other chemicals. Avoid hanging breakable or delicate ornaments on lower branches where your cat could get at them.
Shiny, stringy dangers – Tinsel, curly ribbon, and string can be irresistible to cats, but can cause serious damage to the intestinal tract, including intestinal obstruction, if ingested. Leave these items out of your wrapping and decor.
Plant safety – Many common holiday plants such as mistletoe, holly, amaryllis, and especially lilies can be extremely toxic to cats. Think twice and check this list before bringing any plants into your home.
Candles and fireplaces – There's nothing like a bright, flickering flame to draw the attention of cats and kittens, but danger lurks if they get too close. Always supervise your cat near an open flame.
Cords and lights – To your cat, that shiny string of electric lights or the extension cord stretching across the living room rug look like just another cat toy for them to play with. Unfortunately, chewing on a cord can cause electric shock, burns, or death. Hang lights where kitty can't reach them and secure cords against a wall.
Celebrating Our Feline Friends
The holiday season is notoriously festive and full of parties and gatherings. A house full of people, music, laughter, New Year's eve fireworks, and other seasonal chaos can be a fun part of the holidays, but what do our cats think?
Cats in general are highly sensitive to noise, and to changes in scenery and routine. Make sure you provide a safe, and preferably quiet, place for kitty to hide during a party or gathering. This could be an out of the way room (with doors that close), a high cupboard, or some other spot where they won't be disturbed. Strive to keep your cat's routine as normal as possible throughout the holidays to further alleviate stress.
Enjoying a cat friendly holiday will mean the world to your feline friends! Be sure to give the staff at West Park Animal Hospital a call with any questions and concerns you may have about your pet.
The post Meowy Christmas: Celebrating a Cat Friendly Holiday appeared first on West Park Animal Hospital Blog.